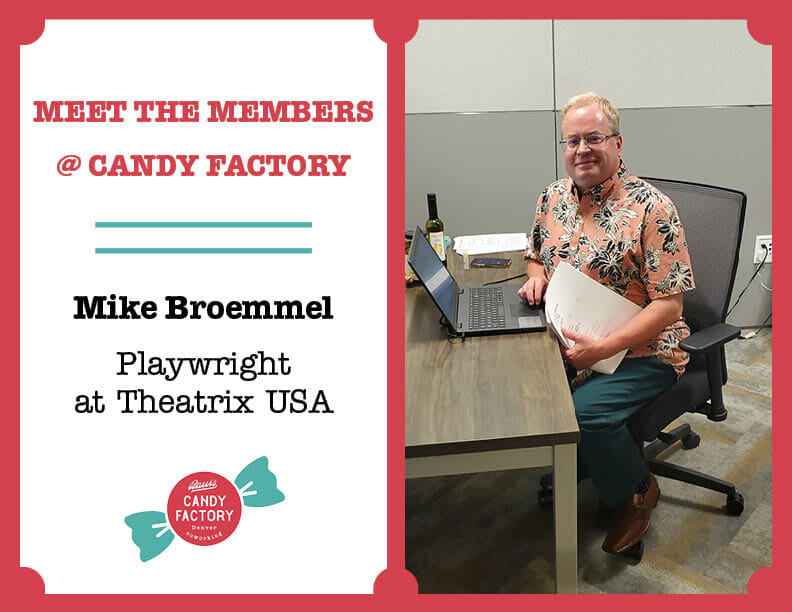 Mike is our fun and famous in-house playwright. We really appreciate having hi as part of our community and feel inspired by his passion for the performing arts and work to bring awareness of crucial historic figures.

Candy Factory: What is a professional accomplishment you are most proud of or working towards?
Mike: Currently, the professional accomplishment that I am most proud of is a series of plays about historical figures that have been produced and performed regularly (pre-pandemic and now beginning to return to live performances). An example is a play about the life story of Hedy Lamarr, an actor during the Golden Age of Hollywood who, in her spare time, conceived the technology that makes the Digital Communications Age possible. Her technology is the reason we have everything from WiFi to GPS to Bluetooth to smartphones to certain types of guided missile systems and a myriad of other technologies. (www.hedylamarr.info) Other plays of this type I've written that feature historical figures include civil rights leader Myrlie Evers, Henry VIII's second wife Anne Boleyn, and author Truman Capote.
Candy Factory: How long have you been a member at Candy Factory?
Mike: 8 Months.
Candy Factory: What do you enjoy most about being part of the Candy Factory Community?
Mike: I enjoy the ability to interact, brainstorm, and collaborate at Candy Factory. Candy Factory has created a thriving and inspiring environment for entrepreneurs, creative professionals, and others.
Candy Factory: What do you enjoy doing in your free time?
Mike: I used to enjoy traveling in my free time but because I have to travel a decent amount for work, I am looking for something new and different.