Covid-19 has presented very serious challenges to the way we run our businesses effectively, work safely as employees, and still produce the best results as stakeholders. Many businesses have ended their office leases and have tried a remote work-from-home model to varied results. On one hand, working from home is extremely comfortable and lack of regular stresses like early mornings and long commutes make it very appealing. On the other hand, distractions, lack of access to resources, and slow internet speeds are seen as a common negative.
According to a recent BBC article titled, Why the future of work might be 'hybrid', on the new work dynamic spurred on by Covid, "…companies are managing in varied ways. Some have given employees permission to continue working remotely until at least 2021. Others have recalled staff to the workplace on different schedules and in staggered groups. Still others are leaving it entirely up to individual workers to decide where to base themselves."
"But businesses around the world are also starting to think about the longer term, including alternative ways to structure work communication and hours as well as physical presence. And what many are converging on amid the ongoing uncertainty, says Marco Minervini, an organizational design researcher at business school INSEAD in Singapore, is different models of hybrid working: combining remote work with office work."
This "hybrid approach" appears to be the route many businesses will adopt as we look forward to the rest of 2021 and beyond. For example, a team of 10 or so may need a space that can accommodate a regular rotation of 2-3 employees in a private space in addition to access to other areas where remote meetings can happen regularly and all the other amenities one would expect in a comfortable work environment.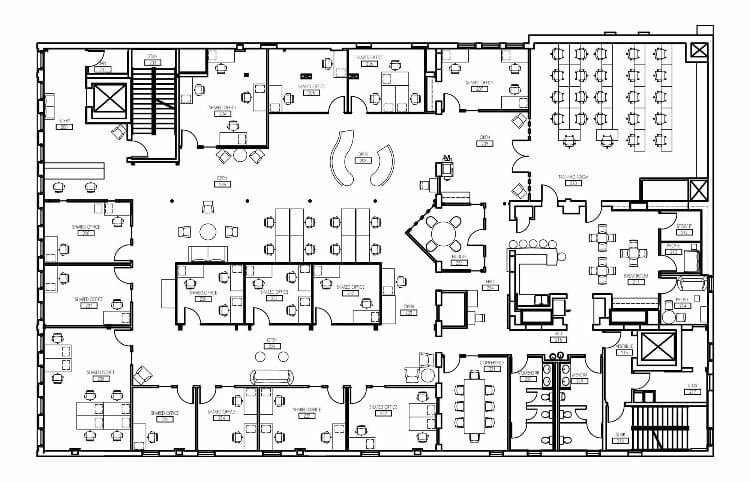 A floorplan of our unique layout with various rooms ideal for a "hybrid approach" to officing.
At Candy Factory Coworking we are unique in that we had the foresight to design a space that can adapt and meet the needs and demands of a shifiting work environment. To start, our central downtown location in the continually growing business hub of Denver, Colorado, is at the confluence of transportation, commerce, sustainability, food, entertainment, and the arts. Businesses will benefit from a prime location that is easily accessible via bus, train or car. With 14 private office suites of various sizes, multiple meeting spaces, comfortable furniture, artistic and historic interior design, the latest office technologies, and fiber-optic high-speed internet, our space is uniquely designed to meet the needs of the future worker. Flexible membership options means you can design the work scenario that best suits you with commitment terms that leave room for adjustments as your needs and demands change.
We are Covid prepared with our open area social distancing and mask policies, hand sanitization stations throughout, upgraded HVAC HEPA filtration, and high-touch focused regular cleaning service. With premium amentites like WIFI fiber internet, expresso/coffee/tea and snacks, private offices for teams of 1 to 8 people, quiet work areas, high tech meeting rooms, a 50 person training room, and flexible memebership options, the future of work is already here at Candy Factory Coworking.
Candy Factory Coworking is a brand new workspace located in the historic Baur's building in the Denver Theatre District. The perfect mix of inspiration, work and play.
Perfect for remote tams, passionate professionals, and creatives who want a workspace in a prime location, with premium amenities, a vibrant community, and a whole lot of hear.
If you haven't already, take a tour with us!